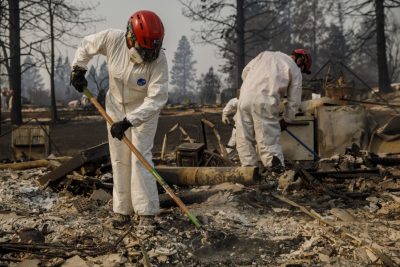 The Camp Fire Deployment to Paradise, CA 12/2/18 to 12/9/18
This is a summary of a deployment as a Chaplain with the Billy Graham Rapid Response Team. Here are some statistics taken from the Cal-Fire Website:
-Size of the fire: 153,336 acres
-Structures Destroyed: 13,972 residences, 528 commercial, 4,293 other buildings
-3 Firefighter injuries
-86 Civilian Fatalities
-Total Fire Personnel Deployed: 1,065
-Total Fire Engines Deployed: 73
-Total Fire Crews: 11
-2 Helicopters, 3 Bulldozers, 3 Water Tenders
This was by far the worst fire disaster I have seen out of my last 5 fire deployments as a Chaplain. This fire affected more people, more structures, and a wider geographical area than any prior ones. The entire city of Paradise, CA and much of Magalia were all evacuated during the disaster, impacting over 30,000 people. Our Chaplains prayed with at least 100 people per day on average, serving in neighborhoods, churches, the Red Cross Shelter, The Salvation Army Food Distribution Warehouse, and at the Federal Disaster Recovery Center inside the vacant Sears building at the Chico Mall. We were blessed to be involved with 24 people professing Faith in Christ since the start of the deployment. Samaritan's Purse has 1,846 Work orders still open as of Saturday, 12/8/2018. Most of these work orders are in areas that have yet to be opened up to the homeowners and our volunteers. Everyone is anxiously waiting for those areas to open so we can love on those people and present The Gospel at every opportunity. This deployment will soon get extremely busy…which is good. Samaritan's Purse has set a tentative close out date of 2/9/2019.
A few stories of homeowners we interacted with as Chaplains:
Our first one we will call "Ryan". He is a man in his late 30's, early 40's who met the Samaritan's Purse Team and the Chaplains at his grandmother's home near Oroville. His grandma, his wife, and his mom are all too traumatized to visit the home just yet. He explained to the Chaplains that his grandmother was a little bit of a "hoarder", as when he moved her back up to this house a few months ago from Southern California he had to take 6 trips with a u haul truck. Now, all of grandma's things are burnt beyond recognition……he is hoping that Samaritan's Purse volunteers can find some things that will bring her some closure and some semblance of comfort. They indeed did begin to find things when the Chaplains were visiting with him. In talking with Ryan about his Spiritual Condition, i.e: where he stood with Christ, he explained that he had come to Christ in jail, after having been incarcerated for his 3rd DUI. He got out of jail, but did not continue strongly in his faith or attend a church. He never gave up his faith in Christ, but he did not grow in it. He views the fire and events subsequent to it as a wake up call from Jesus for him. He, his wife, and their 3 kids all lived in this house that was now gone, and had no place to go. After spending over 3 weeks in a local shelter, he was continuing to search tirelessly for a place for them to live. He had checked with everyone he knew, been to an innumerable number of property management companies, and was still desperately trying to find a home to rent. He and his wife were in the town of Oroville, driving to a store, when they saw a for rent sign on an old house in the industrial section of the city….and were shocked. They stopped and called the number on the sign. The lady at the other end of the call stated that she and her husband were indeed looking to rent this house out, but were "capping" the number of applicants at 100. He and his wife were in the high 90's with their application, which he filled out on the spot at around 3:30 in the afternoon. The landlord was not going to accept any more applications after 5 pm that day. Ryan also explained to us that he was the only professing Christian in his entire immediate and extended family, and he was trying to live the life of Christ in spite of being surrounded by those who practice all kinds of wickedness. The Chaplains encouraged him in that he was the stability and anchor for this family, who had issues with interpersonal relationships, alcohol addiction, and drug addiction. He prayed that God somehow would get he and his family into a home to rent, if not this one. The landlord said that she would narrow it down to the top 2 qualifying applicants, and get back to him the next day. He got a call early in the afternoon that next day, recognizing that it was from that landlord, and got very excited. The landlord then informed him that the other qualifying family had elected to take the house, and that she was sorry. He and his wife then became very distraught…..he continued to pray and look for a place, but found nothing. Then the next morning, that same landlord called him back, saying that the other family had decided against renting the place, and it was his if he wanted it. He and his wife immediately drove down to the house to meet the landlord and get the key. While walking through the house again, he noticed something that he had not seen before……there was a Cross made with different color bricks, embedded in the chimney of the fireplace. He fell down on his knees and wept with gratitude. The Chaplains confirmed what Ryan already knew, that living next to a church now, and having that Cross in his fireplace were not coincidences. He agreed, and pledged to get back in church and stay close to Christ, to lead his family rightly. He also found out from his grandma that she attended that same church for many years earlier…..more confirmation for him. We left him greatly encouraged, even though all of his family's belongings were also destroyed in that fire. An additional surprise confirmation followed these. There were a few volunteers from an organization called "helping hands" out of Medford, Oregon that were serving with Samaritan's Purse on Ryan's home site. Their group leader walked up to Ryan after we had prayed, and told him that they wanted to give him a gift. He agreed, and the gentleman handed him a prepaid visa card for $500.00. Ryan was beside himself with joy. The man explained that the whole team makes these kinds of decisions after helping a homeowner and praying together and gaining consensus…..which he confirmed as the case here.
The Chaplains were helping at the Disaster Recovery Center on one of the days, filling out Samaritan's Purse work orders for homeowners. A woman walked up to the table, crying convulsively, and then abruptly turned away. She came a second time, in the same condition, and once again turned away. She then came a third time, and sat down in the chair, unable to speak, overcome with emotion. The Chaplain prayed and asked God what to say to this person. He felt a compulsion from the Holy Spirit to simply ask her "what's wrong" ? The woman told him that she felt guilty even asking for help from a Christian organization because God could never forgive her for what she had done in her life. She shared that she had been a devoted follower of Satan, having rejected the church due to being hurt, and pledging allegiance to the Devil. She had had two abortions, offering those babies up to Satan in worship. The Chaplain shared that God can forgive any sin if it is confessed to him. She said she did not believe that, so the Chaplain shared about the Thief on the Cross, about King David, and about the Apostle Paul. She said she had never heard sin explained in that fashion before. Long story short…. the Chaplain took the woman through the Steps to Peace with God tract, and she accepted Jesus Christ as her Lord and Savior right there at the table in the Disaster Recovery Center. She was so excited and overwhelmed by the goodness of God. She also filled out a work order with Samaritan's Purse, which means she will be seeing them and Chaplains when they come out to work on her property in the near future.
The last homeowner's story I'll share. We will call them Terri and Lindsay, a husband and wife who had just finished completely refurbishing a manufactured home last month, which was now burnt to the ground. They were in good spirits, even though their home was completely gone, and they had no insurance coverage ! The Chaplains expressed their appreciation of the homeowner's great Faith…..believing that God would provide. They had their newly acquired insurance agent shopping for insurance when the fire struck, because their house had just been put into the kind of shape needed to get insurance. They only had to hang their nice, wrought iron, custom made welcome sign on the front of the home to be done….that sign now laying at our feet as a charred mess now. They were actually praising The Lord for the fact that they had just moved their motorhome to another location, and that they had gotten out alive. (there were some fatalities in their area from the fire) While we were speaking with them, a Samaritan's Purse volunteer brought a small metal box to them, which apparently had some watches in it. Out of that box came a charred face of a watch (the old style with a minute and hour hand). We could not make anything out on the face of it, so we poured a small amount of water over it. The face of that watch that had been burned up showed the time frozen at 9:10a.m. The homeowner's face went white, and her eyes got very large. We asked her what she was feeling…..she said that she just now realized that the fire had destroyed her home less than 10 minutes after she had gotten out….(she left just after 9a.m.!) Once again, they both reaffirmed God's hand at work in their lives. As we left, we rejoiced together with them over God's sovereignty, provision, and faithfulness.
There were many more stories of miraculous events where lives and property were spared, and of course, many more stories of Salvation.
GOD IS AT WORK ON "THE RIDGE" (that's what locals call the area of Paradise and Magalia)
Please continue to pray for all of these hurting people; pray for all of the Pastors in this area, to see this as a strategic opportunity for The Gospel; pray for Samaritan's Purse and the Billy Graham Rapid Response Team as they are continuing to minister there.